Hall of Shame
Consumer Discretionary
GSX Techedu (GSX US)
Year: 2020
GSX TECHEDU INC. is a China-based holding company principally involved in the provision of technology-driven education services. Through its subsidiaries, the Company is engaged in the provision of online K-12 after-school tutoring services. It also offers foreign language, professional and interest courses. It listed on the NYSE in June 2019, raising US$207.9M during its IPO. In an additional share offering in November 2019, US$289.8M was raised.
Grizzly Fesearch
Feb 25, 2020 Grizzly research issued a report titled "Brushed Student Counts and Cooked Books: Why We Believe GSX Techedu is the Worst Publicly Traded Education Company". In its report, Grizzly Researchs' allegations include that GSX:-
- has been vastly overstating its profitability,
- is offloading cost to multiple related parties to report better financials
- conducting CAPEX fraud
- faking student enrolments to boost count
It also notes that Insiders and old shareholders are selling aggressively, that GSX's former CFO left suddenly during the IPO and the current CFO was previously involved with a dubious on-line education company.
In conclusion Grizzly Research believe that GSX is a fraud and say "GSX should not hold up to the due diligence of any credible institution. A simple online review would reveal that the company is not what it portrays itself to be. Red flags around the CFO departure were blatantly ignored. Financials that are simply too good to be true are taken at face value. GSX's auditor Deloitte Touche Tohmatsu and underwriters including Deutsche Bank, Goldman Sachs, Bank of America, and Credit Suisse have apparently failed to perform basic due diligence on their client – otherwise they should have easily detected at least some of the major red flags we outline in this report."
Citron Research
April 14, 2020 Citron Research published the first of a series of reports on GSX Techedu; "GSX Techedu Inc – The Most Blatant Chinese Stock Fraud since 2011". In the report Citron:
alleged that GSX Techedu Inc was overstating revenue by up to 70%.
questioned GSX claims that in the year up to IPO GSX's growth was 432% along with gross margins of 75%
Asked if GSX had 432% revenue growth, it would be widely known and reported; why was it not regarded so by the Chinese Government, Media and Think tanks.
suggested that a huge discrepancy exists between reported figures (revenue and student enrolment) and reality. Citron believed GSX potentially fudged their numbers using duplicate classes.
April 30, 2020 Citron published a second report "Conclusive Evidence of Fabricated Financials at GSX Techedu". In the report, Citron said there was clear evidence that GSX was manipulating its reported financials, including a recorded phone call with an employee at a brushing outfit (i.e., a firm that is paid to generate fake users and reviews) hired by GSX, who explains that 40% of GSX's 2019 registered users were fake. Also that the report included systematic documentation of multiple undisclosed related parties that have been closely working with GSX. Citron did not believe GSX was receiving the proper oversight from its auditors, as its investigation had revealed that the engagement partner at GSX's auditor, Deloitte Touche Tohmatsu, had a suspicious and limited engagement history that read like a who's-who of disgraced Chinese education firms.
May 7, 2020 Citron research issued "Part 3 in Series of GSX Investigation" report. It said that it was presenting, to US regulators, definitive evidence of GSX Techedu committing securities fraud through the use of multiple undisclosed related party transactions, to hide expenses/liabilities. It concluded that there was, then, far too many red flags at GSX to ignore. It strongly urged U.S. and Chinese regulators to end this charade and immediately initiate investigations into GSX. Citron said that regulatory sentiment already acknowledged that the issues it had raised reflect systemic problems that needed to be addressed for the benefit of investors.
Scorpio VC
May 6, 2020 Scorpio VC released a report on GSX, "GSX (whom to learn from), THE LAST TO LEARN FROM". In the report Scorpio VC questioned GSX's multiple data, a property purchase in Zhengzhou, salaries of top teachers and employees buying courses.
GMT Research
May 7, 2020 GMT Research issued a report "GSX TECHEDU (GSX US) SELL/AVOID: Long list of concerns". In conclusion it noted that GSX has traits in line with past fraud, there was evidence of profit manipulation and GMT had concerns over some of the individuals involved; however, this was far from definitive, and plausible explanations may have existed.
Muddy Waters
May 18, 2020 Muddy Waters (MW) issued a report; "MW is Short GSX Techedu Inc." concluding that GSX was a near-total fraud. In the report MW said at least 70 percent of the Beijing-based GSX's users are bots and that the real number is likely 80 percent or more. It alos noted that the company did not generate revenue without users and its expenses were greatly understated. MW concluded that the company was losing significant money – both because real revenue was a fraction of the claimed number, and GSX fraudulently understated expenses. MW also noted that the company's chairman, Larry Chen, had pledged $318 million worth of shares, making the stock "even more dangerous for long holders,"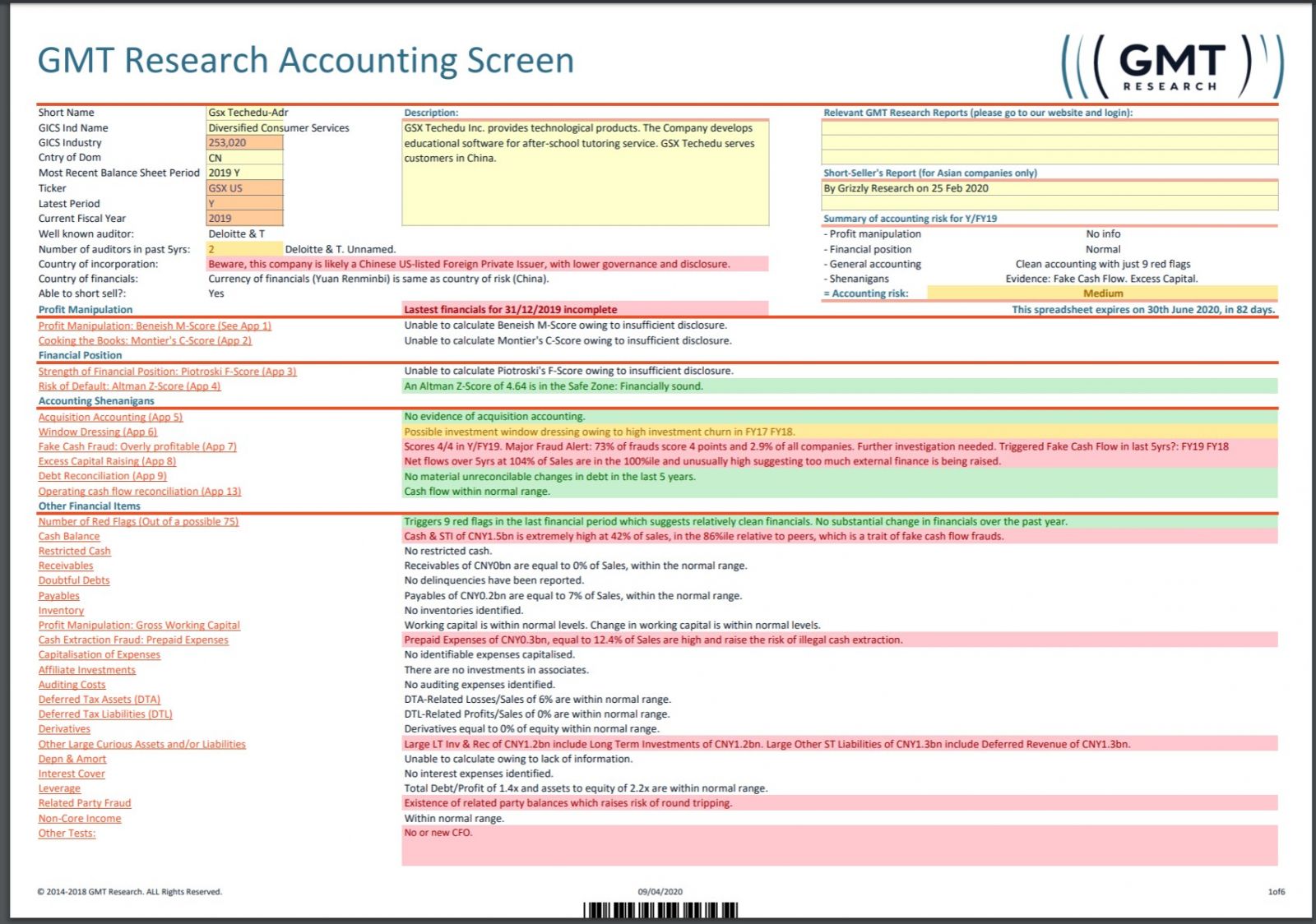 ---
Grizzly Research: Brushed Student Counts and Cooked Books, 25 Feb 2020
GSX Techedu: GSX 2019 Q4 Earnings Release, 18 Feb 2020
Citron Research: GSX Techedu Inc – The Most Blatant Chinese Stock Fraud since 2011, 14 Apr 2020
Citron Research: Conclusive Evidence of Fabricated Financials at GSX Techedu, 30 Apr 2020
Citron Research: Part 3 in Series of GSX Investigation, 7 May 2020
Scorpio VC: GSX (whom to learn from), THE LAST TO LEARN FROM, 6 May 2020
GMT Research: GSX TECHEDU (GSX US) SELL/AVOID: Long list of concerns, 7 May 2020
Muddy Waters: MW is Short GSX Techedu Inc., 18 May 2020
Yicai Global: GSX Techedu Slumps Despite CFO Rebuffing Fourth Recent Short Seller Report, 19 May 2020
GSX Techedu: Annual Report YE Dec 2019
GSX Techedu: Prospectus - Nov. 2019

---
Back