---
GSX TECHEDU INC. is a China-based holding company principally involved in the provision of technology-driven education services. Through its subsidiaries, the Company is engaged in the provision of online K-12 after-school tutoring services. It also offers foreign language, professional and interest courses. It listed on the NYSE in June 2019, raising US$207.9M during its IPO. In an additional share offering in November 2019, US$289.8M was raised.
Grizzly Research
Feb 25, 2020 Grizzly Research issued a report titled "Brushed Student Counts and Cooked Books: Why We Believe GSX Techedu is the Worst Publicly Traded Education Company". In its report, Grizzly Research's allegations include that GSX:-
- has been vastly overstating its profitability,
- is offloading cost to multiple related parties to report better financials
- conducting CAPEX fraud
- faking student enrolments to boost count
It also notes that Insiders and old shareholders are selling aggressively, that GSX's former CFO left suddenly during the IPO and the current CFO was previously involved with a dubious on-line education company.
In conclusion Grizzly Research believe that GSX is a fraud and say "GSX should not hold up to the due diligence of any credible institution. A simple online review would reveal that the company is not what it portrays itself to be. Red flags around the CFO departure were blatantly ignored. Financials that are simply too good to be true are taken at face value. GSX's auditor Deloitte Touche Tohmatsu and underwriters including Deutsche Bank, Goldman Sachs, Bank of America, and Credit Suisse have apparently failed to perform basic due diligence on their client – otherwise they should have easily detected at least some of the major red flags we outline in this report."
June 2, 2020 Grizzly Research issued another report on GSX titled "GSX Techedu Inc. – Grizzly Research Presents Smoking Gun Evidence of Fraud". Grizzly said it has carried on its research since its first report in February and found evidence confirming its and other Short Sellers allegations. In summary, it focused on two key points:
- GSX's true revenues and student count were only 11% of what GSX suggested to US Investors,
- GSX's core marketing activities were illegal and employed massive amounts of fake identities,
It concluded that GSX could simply not to be trusted; The company had been fuelling their growth miracle with nothing but lies and criminal activities. Grizzly expected that US regulators would be forced to address the first point, while it expected Chinese regulators to have a close look into GSX's illegal marketing activities.
June 3, 2020 GSX issued a response to Grizzly refuting the follow-up report and responding to the issue of inflating enrollment numbers.
April 8, 2021 Grizzly issued an update report "Seven Reasons Why Deloitte CANNOT Sign GSX Annual Audit". In the report Grizzly focused on the issues that were within the scope and responsibility of the auditor to investigate. Grizzly strongly believed that failure to investigate these issues would have serious consequences for GSX's auditor Deloitte. The reasons highlighted by Grizzly were:
Abrupt Exploding Expense Confirms Cooking Books - Previously GSX had reported that their average marketing expense per student was merely 450RMB, less than half the industry average. However, operating expenses suddenly increased close to 500% in consequent quarters. This occurred after GSX had to delay its Q2 earnings and gave a rosy outlook for Q3, 2020 without any mention of exploding costs.
Gender Flexible Teachers - Teacher certificate ID numbers are set up in a specific way, where certain digits represent genders and certain digits represent the grade they can teach. Researchers had identified that at least 15 teachers were teaching in grades they are not supposed to, or worse, magically changed genders.
Long Term Investments - The returns on GSX's long-term financial assets are surprisingly low given how much cash they supposedly had. This prompted Grizzly to believe that they might have fake cash balances. Investors had dug in deeper and found even more lies and inconsistencies in this respect. The verification of cash balances and investment liquid investment accounts should be fairly straight-forward. It requires verification of the bank balances and investment account balances. It would be a debacle to find out later that the cash balances did not exist, and all it would have taken was a call by the auditor to the bank to confirm the bank balance.
Mysterious Private Placement - The recent private placement of US$870m announced in December 2020 remained mysterious. GSX did not give any information about the identity of the purchaser, which is exceedingly strange for a placement of this size. Grizzly believed this lack of disclosure indicated potential related party transactions, circular funds and other problematic issues with the Financing. GSX also did not use a broker, which is unheard of for a transaction this size.
Land Acquisition - In January 2020, GSX purchased real estate for over RMB300m, but Grizzly's research indicated that the purchase price was only a fraction of what was reported. Even before the public scrutiny, GSX faced the problem of missing cash balances that came with fake profits. Grizzly believed the CAPEX fraud that occurred in January 2020 was easy to catch for auditors. Grizzly said it firmly believed that a flow of funds memo and corresponding wire confirmations did not exist for this transaction.
GSX whistle blower lawsuit - Grizzly advised the auditors to go over the key issues outlined within the whistle blower lawsuit, as well as other short seller reports. The key issues it believed that should be reviewed were:

Reconciliation of GSX Financials in 2018. vs China SAIC financials
Related parties identified in Grizzly's report, as well as additional related parties identified by Citron/Scorpio
Order Brushing
GSX teachers were not what they marketed them to be, that many were merely cheap new grads with made up profiles. Also issues regarding teacher certificates

Consequences for Auditors - Deloitte faced real and serious monetary consequences if they signed off and GSX later turned out to be a fraud. Grizzly believed it was just a question of when, not if, GSX was widely recognized by even regulators as a fraud.
Grizzly noted that recently in 2020, PCAOB imposed a $250,000 penalty on Marcum LLP and prohibited the firm from auditing clients in China for three years. The PCAOB and the Securities and Exchange Commission had been cracking down on Chinese companies for not complying with PCAOB standards and threatened to delist Chinese companies after a string of auditing scandals involving companies including Luckin Coffee and GSX Techedu. GSX is currently under investigation by the SEC. According to Grizzly's estimates Deloitte generated approximately $150M in annual revenue from Chinese clients. Grizzly asked would Deloitte really want to sacrifice three years of business from so many other Chinese firms for just one firm?
Citron Research
April 14, 2020 Citron Research published the first of a series of reports on GSX Techedu; "GSX Techedu Inc – The Most Blatant Chinese Stock Fraud since 2011". In the report Citron:
alleged that GSX Techedu Inc was overstating revenue by up to 70%.
questioned GSX claims that in the year up to IPO GSX's growth was 432% along with gross margins of 75%
Asked if GSX had 432% revenue growth, it would be widely known and reported; why was it not regarded so by the Chinese Government, Media and Think tanks.
suggested that a huge discrepancy exists between reported figures (revenue and student enrolment) and reality. Citron believed GSX potentially fudged their numbers using duplicate classes.
April 30, 2020 Citron published a second report "Conclusive Evidence of Fabricated Financials at GSX Techedu". In the report, Citron said there was clear evidence that GSX was manipulating its reported financials, including a recorded phone call with an employee at a brushing outfit (i.e., a firm that is paid to generate fake users and reviews) hired by GSX, who explains that 40% of GSX's 2019 registered users were fake. Also that the report included systematic documentation of multiple undisclosed related parties that have been closely working with GSX. Citron did not believe GSX was receiving the proper oversight from its auditors, as its investigation had revealed that the engagement partner at GSX's auditor, Deloitte Touche Tohmatsu, had a suspicious and limited engagement history that read like a who's-who of disgraced Chinese education firms.
May 7, 2020 Citron research issued "Part 3 in Series of GSX Investigation" report. It said that it was presenting, to US regulators, definitive evidence of GSX Techedu committing securities fraud through the use of multiple undisclosed related party transactions, to hide expenses/liabilities. It concluded that there was, then, far too many red flags at GSX to ignore. It strongly urged U.S. and Chinese regulators to end this charade and immediately initiate investigations into GSX. Citron said that regulatory sentiment already acknowledged that the issues it had raised reflect systemic problems that needed to be addressed for the benefit of investors.
JL Warren Capital
April 25, 2020 JL Warren published a note "Detailed Account of Brushing Behind GSX TechEDU". The note was to share the details of an extremely enlightening call that JL Warren had with a professional brushing outfit in Guangdong, China. Brushing – which is "faking" online orders and reviews - is a common practice in China by merchandisers to increase their visibility, attract traffic and improve conversion rates. JL Warren's brusher contact was one of the outsourced brushing service vendors contracted directly by the management of GSX. The contract authorised the brushers to create "fake" class enrollments (students) for a selective group of teachers for as much as ~40% of the class total enrollment. Brushing volume differed depending on the teacher and the class. Brushers were also responsible for writing "fake" positive reviews where the number of reviews needed depended somewhat on what was needed to neutralize and offset the negative but genuine reviews. JL Warrens' discoveries supported the fraud allegations made by short-sellers and widely reported in the media. It appeared more than clear to JL Warren that GSX was scamming American investors.
May 25, 2020 JL Warren released a second report "GSX: Minimal Market Share; ~90% Fake Enrollment and Unlawful Operations". It had conducted market survey among approx 2,200 K12 parents, in eight cities, who registered their child(ren) for at least one class over the previous 6 months. When comparing its results to GSXs stats it found that:
- data suggested that GSX is outperformed by every one of its competitors.
- More than 90% Accounts and Live Class Enrollments Were Fake
- 80%+ of those logged in "students" were fakes operated by brushers
- Fake WeChat Parents Groups
- Numerous Violations of China's Ministry of Education Regulations
It concluded saying that four independent researchers (Grizzly, Citron, Scorpio and Muddy Waters) independently conducted thorough primary research from various perspectives, all coming up with similar assessments that it agreed with mostly. JL Warren believed GSX was a blatant fraud that could not be ignored by the US regulators.
Seeking Alpha
May 4, 2020 A blogger, DX2 Capital, published an article on Seeking Alpha "GSX Techedu - An Unsustainable Story, The Stock Should Be Avoided". DX2 conducted its own due diligence on GSX and came away with similar bearish views as Citron and Grizzly. It could see no competitive advantage in GSX, believed that its growth was unsustainable, and had doubts over its management. DX2 said it simply did not see that GSX's growth would last and could not justify its current valuation. From Dx2s point of view, there was a disconnect between the company's fundamentals and its share price. It was not suggesting anything sinister about GSX, but believed it was definitely a stock to shy away from at the current price level.
Scorpio VC
May 6, 2020 Scorpio VC released a report on GSX, "GSX (whom to learn from), THE LAST TO LEARN FROM". In the report Scorpio VC questioned GSX's multiple data, a property purchase in Zhengzhou, salaries of top teachers and employees buying courses.
May 26, 2020 Scorpio VC issued "GSX (whom to learn from), THE LAST TO LEARN FROM - Part 2". In this report it focused on five issues:
1. Teachers qualifications - Some have no certification and some have different names on the certs,
2, VAT Fraud - where subsidiaries are not registered for tax. Whilst VAT figures reported to SEC are overstated.
3. Fabricated Cash income which accounted for 50 to 80% of the FY 2019 revenue.
4. Questions over the user numbers when compared to its peers.
5. Purchase of a property in Zhengzhou, if related parties were involved.
GMT Research
May 7, 2020 GMT Research issued a report "GSX TECHEDU (GSX US) SELL/AVOID: Long list of concerns". In conclusion it noted that GSX has traits in line with past fraud, there was evidence of profit manipulation and GMT had concerns over some of the individuals involved; however, this was far from definitive, and plausible explanations may have existed.
Muddy Waters
May 18, 2020 Muddy Waters (MW) issued a report; "MW is Short GSX Techedu Inc." concluding that GSX was a near-total fraud. In the report MW said at least 70 percent of the Beijing-based GSX's users are bots and that the real number is likely 80 percent or more. It also noted that the company did not generate revenue without users and its expenses were greatly understated. MW concluded that the company was losing significant money – both because real revenue was a fraction of the claimed number, and GSX fraudulently understated expenses. MW also noted that the company's chairman, Larry Chen, had pledged $318 million worth of shares, making the stock "even more dangerous for long holders,"
May 19, 2020 GSX issued a response to Muddy Waters report addressing some of the points on the report.
May 28, 2020 Muddy Waters issued a 6 page report; "GSX: Small Classes, Big Lies", in response to GSX's reply. In it stated that GSX's responses consisted largely of drivel, designed to obfuscate and lie. MW maintained its view that GSX was a massive fraud – i.e., it was a nearly empty box. MW said that making GSX's denials even more farcical was that it openly recruited engineers to help it run bot farms. MW showed this in this report.
May 29, 2020 GSX issued a response to Muddy Waters refuting Muddy Waters Research's follow up report again responding to specific points.
SYLVAN
August 9, 2020 A report, "Impossible Numbers in China EdTech" was released by SYLVAN. The author cast doubts on GSX's reported statistics based on comparing business network sites LinkIn and MaiMai figures for GSX, as compared to five of its competitors. The main facts it put forward were:
GSX had the lowest amount of employees out of all the major China EdTEch firms,
GSX had the lowest educational staff despite their claim to have 10,000 tutors
SYLVAN showed that GSX's claims to have hired 6,500 Online Tutors in an 8 month period were doubtful, SYLVAN found they hired ONE in 90 days,
It believed GSX was likely overstating the amount of teaching staff that it had by more than a 100 times,
It said that many of GSX 'Tutors' were either IT or sales staff or unqualified to teach; which was illegal in China.
SYLVAN finished saying it had asked that Deloitte and Li Li Shan (Deloittes Auditing Partner), to re-examine the numbers and verify with the China Ministry of Education for licenses registered.
September 2, 2020 In an announcement of its 2nd Quarter results, GSX also disclosed that the SEC's Division of Enforcement contacted the Company, requesting it to produce certain financial and operating records dating from January 1, 2017. GSX said it was cooperating with the SEC. It also disclosed that prior to the SEC contact, the Audit Committee had engaged third party professional advisers to conduct an internal independent review into the short sellers reports' key allegations.
Deloitte Watch
October 30, 2020 A web-site "Deloitte Watch" was published sometime in October 2020. Its headline was "GSX Techedu is an $18 Billion Fraud…enabled by their auditor" and it said it was the creation of many concerned investors. It consolidated the issues raised by Short-sellers. The focus of the web-site was mainly on Deloitte's performance in auditing of GSX and highlighted it's past history with its audits of Chinese fraudulent companies. It commented "By continuing to serve in the role as GSX's auditor, Deloitte Touche Tohmatsu is purposefully turning a blind eye to fraud, and is lending their firm's reputation out for fees. All the evidence on this site has been provided to Deloitte, but has not triggered the Professional Scepticism that is required of an auditor. We expect regulators, including the SEC, PCAOB, FINRA, and the NYSE, and investors to hold Deloitte financially liable for its unreasonable recklessness in enabling GSX."
The web site showed evidence on issues under the following headings:
Pretend 'Bot' students boost revenue ("brushing")

Related party transactions are used to remove expenses

Unrealistic performance relative to competitors

Fake students, fake testimonials, fake teacher credentials

GSX's growth is demonstrably false and defies common sense

Red flags around corporate governance and accounting practices

The research teams providing data on GSX are experts in Chinese fraud
March 31, 2021 Between November 2020 and March 2021, additional evidence was added to the web site covering the following:
GSX removes fake teachers from website; refuses to acknowledge they have lied to students, parents and investors

GSX Employee, Instructor, and Tutor numbers are Pure Fantasy

GSX is highly manipulated stock through a variety of illegal schemes

GSX is being manipulated by Qian Yongqiang, a hedge fund manager and close friend of GSX CEO

GSX announced a private financing of $870 million. The capital raise is fake.

Former Deloitte employee accuses LiLi Shan, a partner at DTT, of bribery and fraud

Citibank account shows discrepancies that indicate fraudulent reporting

GSX has listed a material number of fake teachers on their website in a ploy to inflate revenue

GSX has been listed fake teachers on their website since their IPO

We respond to GSX's 'rebuttal' to our inflated teachers research

GSX has a lot to hide…but their website shows the truth

Q3 Expenses for GSX were inflated and fake. The facts are clear.

GSX is creating fake expenses to hide "missing" cash that never existed despite previous claims of profits

GSX lied about a related party loan they took from CEO Larry Chen

GSX's CEO & CFO gave interviews to Chinese media outlets where they deliberately lied

New evidence shows continued 'brushing' of accounts while under SEC Enforcement Investigation

New evidence collected from SimilarWeb shows that GSX is faking revenue and enrollment numbers

GSX is posting fake and duplicate courses on their website to appear as if they have class offerings

Letter to the NYSE on disclosure violations by GSX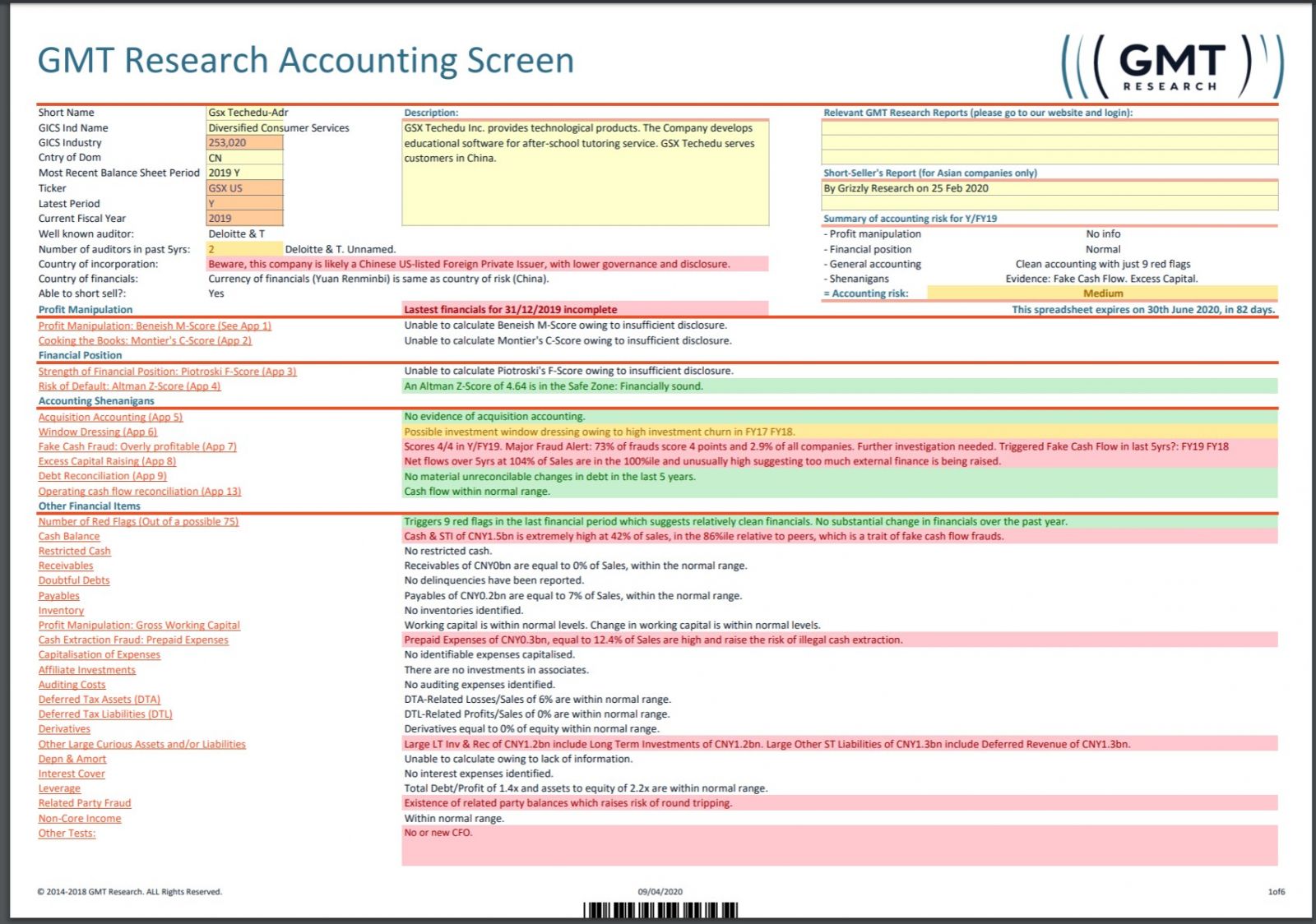 ---
GSX Techedu: GSX 2019 Q4 Earnings Release, 18 Feb 2020
Grizzly Research: Brushed Student Counts and Cooked Books, 25 Feb 2020
Citron Research: GSX Techedu Inc – The Most Blatant Chinese Stock Fraud since 2011, 14 Apr 2020
JL Warren Capital: Detailed Account of Brushing Behind GSX TechEDU, 25 Apr 2020
Citron Research: Conclusive Evidence of Fabricated Financials at GSX Techedu, 30 Apr 2020
Seeking Alpha: GSX Techedu - An Unsustainable Story, The Stock Should Be Avoided, 4 May 2020
Scorpio VC: GSX (whom to learn from), THE LAST TO LEARN FROM, 6 May 2020
Citron Research: Part 3 in Series of GSX Investigation, 7 May 2020
GMT Research: GSX TECHEDU (GSX US) SELL/AVOID: Long list of concerns, 7 May 2020
Muddy Waters: MW is Short GSX Techedu Inc., 18 May 2020
GSX Techedu: GSX Refutes Muddy Waters Research's Allegations, 19 May 2020
Yicai Global: GSX Techedu Slumps Despite CFO Rebuffing Fourth Recent Short Seller Report, 19 May 2020
JL Warren Capital: GSX: Minimal Market Share; ~90% Fake Enrollment and Unlawful Operations, 25 May 2020
Scorpio VC: GSX (whom to learn from), THE LAST TO LEARN FROM - Part 2, 26 May 2020
Muddy Waters: GSX: Small Classes, Big Lies, May 28, 2020
GSX Techedu: GSX Refutes Muddy Waters Research's Follow Up Report, 29 May 2020
Bloomberg: Muddy Waters Joins Short Sellers Pounding Away at GSX, 29 May 2020
Grizzly Research: Grizzly Research Presents Smoking Gun Evidence of Fraud, 2 Jun 2020
GSX Techedu: GSX Refutes Grizzly Research's Follow Up Report, 3 Jun 2020
SYLVAN: Impossible Numbers in China EdTech, 9 Aug 2020
Deloitte Watch: GSX Techedu is an $18 Billion Fraud…enabled by their auditor, 30 Oct 2020 (snapshot)
Deloitte Watch: GSX - Additional Evidence added Nov. 2020 to March 2021 15 Apr 2021 (snapshot)
Grizzly Research: Seven Reasons Why Deloitte CANNOT Sign GSX Annual Audit, 8 Apr 2021
GSX Techedu: Announces Q2 2020 Unaudited Financial Results, 2 Sep 2020
GSX Techedu: Annual Report YE Dec 2019
GSX Techedu: Prospectus - Nov. 2019
---